Onboard Dynamics will be exhibiting at the Western Regional gas Conference. The Conference takes place in Scottsdale Arizona on August 22nd– 23rd.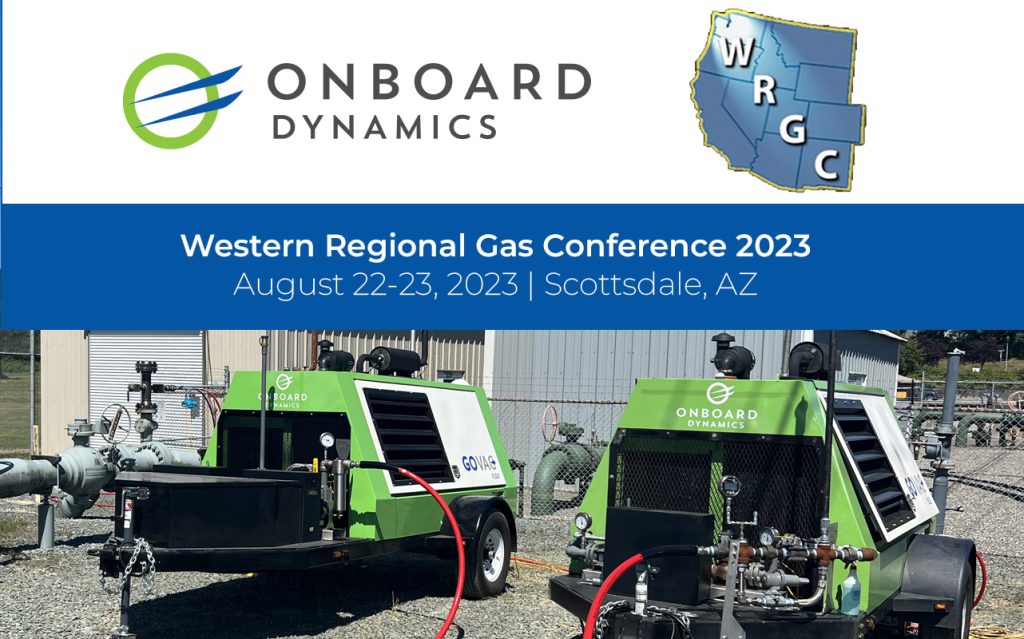 Come See Our Table
Visitors and potential clients will be able to ask questions about our products and receive detailed information about how our technology and solutions can help reduce their company emissions and achieve their ESG goals.
About Our Products
Our GoVAC® line of products is an alternative to venting or flaring natural gas from pipelines. Our core technology can draw down a pipeline to near 0 psig using the natural gas already in the pipeline as its source of power. The gas recovered from the pipeline can then be transferred into an adjoining pipeline or compressed up to 3600 PSIG and put into a tube trailer for transport and reinjection elsewhere or into a storage tank to be used as CNG fuel for vehicles. The GoVAC® system requires no external power making it easy to use in remote areas. Its compact size and footprint facilitate flexibility in transportation and positioning at job sites, which is perfect for residential and challenging locations.
Each GoVAC FLEX ® unit is fully equipped with state-of-the-art telemetry and instrumentation including temperature and pressure sensors, electronic valves, and flow meters that measure how much natural gas is being captured and recovered. The control system communicates up to the cloud which enables remote system monitoring and near real time data collection capabilities.  Our telemetry, instrumentation, and control system come together to provide environmental reports that contain asset grade data ensuring traceability, transparency, and compliance at scale.
The ability to have digitized reports available is a huge benefit to the pipeline operator and any associated auditing agency. Accurate and secure data reporting will become ever more important as companies seek to fulfill current and future regulations and environmental initiatives.
About the Western Regional Gas Conference
The Western Regional Gas Conference is a non-profit organization that covers Integrity management, O&M topics, and new technology for the natural gas industry. There are conferences, seminars, and numerous vendor exhibits. The WRGC aims to provide a venue for discussion of natural gas distribution and transmission topics, regulations, and issues. It provides a relaxed environment for information exchange and networking between delegates, speakers, and vendors. The venue also hosts senior PHMSA members and State Regulators, allowing operators to interact with regulatory authorities.
About Onboard Dynamics
The goal of Onboard Dynamics is to support the natural gas ecosystem in reducing global greenhouse gas (GHG) emissions safely and reliably through our innovative and practical commercial solutions. Our patented compression-based systems minimize methane and other GHG releases during pipeline operations and maintenance, mitigate GHG emissions from transportation vehicles, and capture methane that would otherwise be released to the atmosphere from other industrial operations.
Our GoVAC® pipeline evacuation systems incorporate state-of-the-art instrumentation including flow meters that measure volume of gas recovered. The control system communicates to the cloud enabling remote monitoring and real-time data collection. This technology produces detailed, auditable reports of gas recovered from every project to ensure meeting strict environmental standards. Our products have performed numerous evacuation projects during all seasons throughout the United States.
Our customers receive expanded environmental benefits and reduction in costs through purchasing, leasing, and/or receiving turn-key services from our natural gas-powered products.