Rita Hansen, CEO, and Co-founder of Onboard Dynamics gives a presentation about the unique, mobile, modular products that Onboard Dynamics offers. Whether they are deployed at a remote pipeline job site, in the field, or at a fleet yard, the product solutions can accept any low-pressure natural gas or a renewable natural gas source and then compress or move this natural gas for responsible use. And, there is no need for any external power source to operate.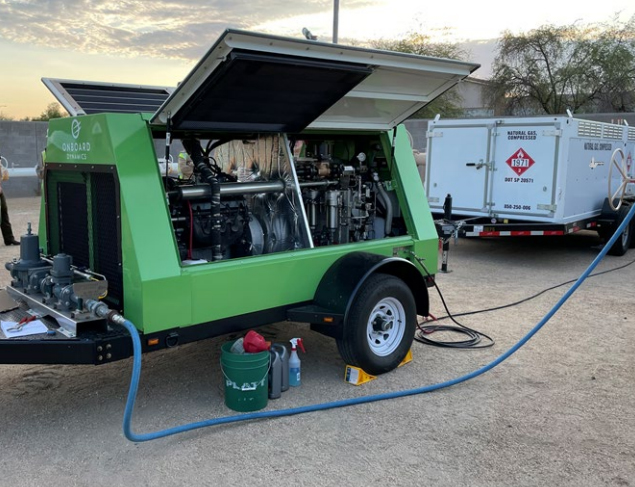 The presentation focuses on the recently launched pipeline evacuation unit, the GoVAC™ Flex, and the continued progress the company has made driving down emissions in the cleantech industry.
There are challenges facing the natural gas industry and Onboard Dynamics provides solutions that simplify the capture, compression, and movement of natural gas. This enables customers to receive economic value while achieving environmental goals.
This video covers the results of natural gas vessel-to-vessel transfer, results of pipe-to-pipe transfer abilities, and pipe-to-tube trailer transfer abilities of the GoVAC Flex.
Watch the full presentation here to learn more:
About the Enercom Oil and Gas Conference
EnerCom's The Oil & Gas Conference® offers investment professionals the opportunity to listen to the world's key senior management teams present their growth plans and provides industry professionals a venue to learn about important energy topics affecting the global oil and gas industry. The 2018 edition of EnerCom's The Oil & Gas Conference® hosted 100+ presenting companies with operations spanning more than 40 countries and six continents. Enterprise Values of the 2019 presenters will range from approximately $9 million to $150 billion
More than 2,000 institutional and hedge fund investors, energy research analysts, retail brokers, trust officers, high net worth investors, investment bankers, and energy industry professionals gather in Denver each year for the unique opportunity to meet and discuss future industry plans, growth opportunities, and economic trends that are impacting the exploration and production of oil and natural gas. EnerCom works with presenting company management teams arranging one-on-one meetings with the attending institutional investors and research analysts during the Conference.