Onboard Dynamics' CEO, Rita Hansen, received a prestigious invitation to speak as part of a fireside chat held by the Advanced Research Projects Agency-Energy (ARPA-E) and hosted at Rice University in Houston, Texas.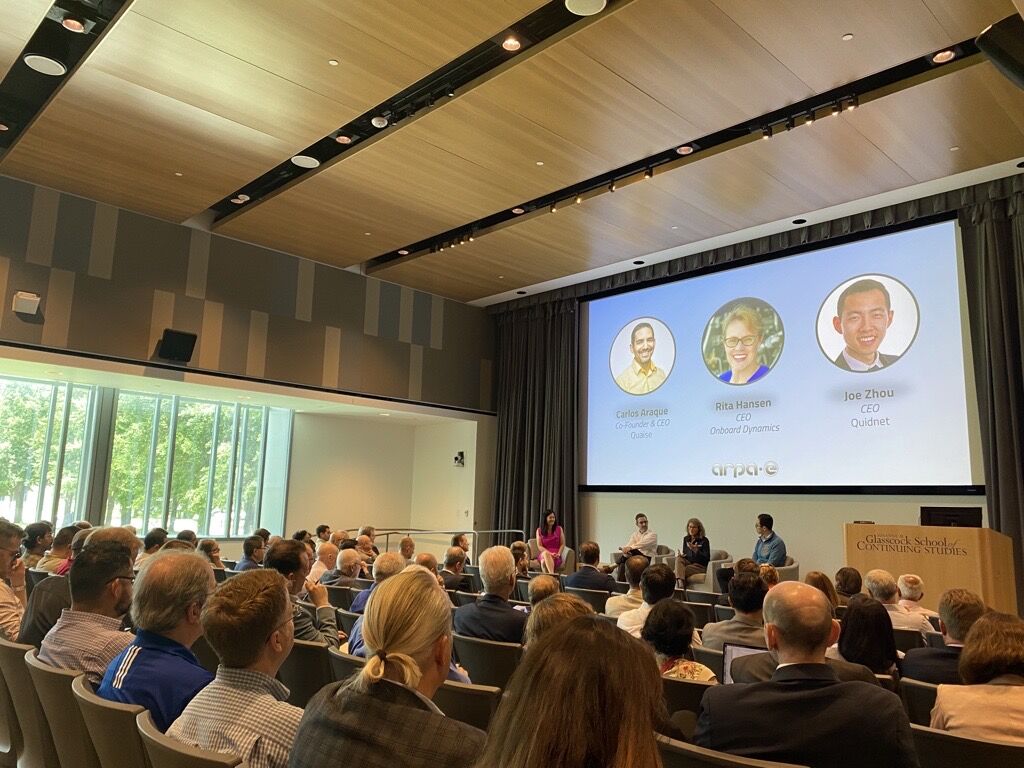 ARPA-E Director Evelyn Wang and the entire team of Program Directors, Tech-to-Market Advisors and Fellows provided insights into ARPA-E's current and potential future energy technology development efforts. In addition to learning about the agency's overall funding approach, the event helped attendees gain insight into specific technical areas of interest and received the opportunity to ask questions and provide feedback–helping both themselves and ARPA-E evolve their strategic visions. The event was attended by members of the energy innovation community.
Rita shared how Onboard Dynamics has been around since 2013 having originally spun out of natural gas compression technology that originated at Oregon State University. At that time, they received funding from the Department of Energy's (DOE) Advanced Research Projects Agency for Energy (ARPA-E) to address the critical lack of infrastructure in refueling natural gas fleet vehicles in the US. And, how they have products deployed today in the market that fulfill that need.
She went on to talk about the major pivot the company took just over two years ago when one of their major natural gas utility customers wanted to use their mobile compressed natural gas (CNG) compressor product for a pipeline evacuation project. The successful execution led to the development and launch of their current product line – the GoVAC® pipeline evacuation system.
The GoVAC® system can draw down a pipeline to near 0 psig. The gas recovered can be transferred into an adjoining pipeline or compressed to 3600 psig and then transferred into a tube trailer for transport and reinjection elsewhere or into a storage tank to be used as CNG fuel for vehicles. The GoVAC ® technology is that it uses a small portion of the natural gas in the pipeline as fuel so no external fuel is needed to power the system.
Perhaps the most notable feature of the GoVAC® technology is that it provides environmental reports that contain validated and third-party certified asset-grade data ensuring traceability, transparency, and compliance at scale.
This ability is a huge benefit to not only the pipeline operator, but to any associated auditing agency. Accurate and secure data reporting will become ever more important as companies seek to fulfill current and future regulations and environmental initiatives.
She also received the opportunity to share advice to future entrepreneurs, bottlenecks in developing the technology and the current needs of the company.
About ARPA-E
The Advanced Research Projects Agency-Energy (ARPA-E) is a government agency tasked with promoting and funding the research and development of advanced energy technologies. The agency invests in high potential, high impact energy technologies that are too early for private-sector investment. Projects that ARPA-E invests in are identified to improve U.S. Economic prosperity, national, security, and environmental well-being. ARPA-E focuses on transformational energy projects that can be advanced with a small amount of funding over a short period of time.