The Northeast Gas Association (NGA) has teamed up with Onboard Dynamics to provide a demonstration and training opportunity called the Virtual Product and Service Solution Spotlight to keep their members connected with important gas industry products and services. This virtual event is offered at no cost for NGA members to attend.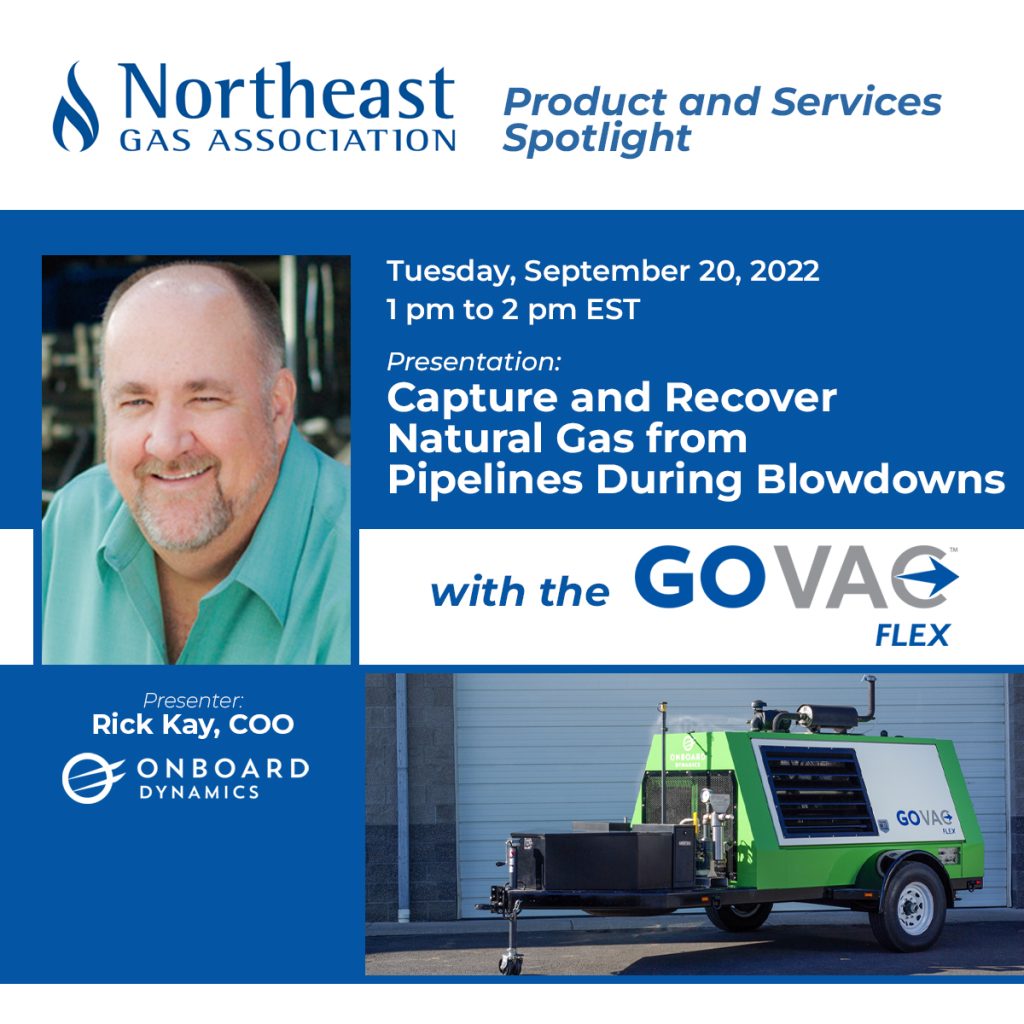 The Product Spotlights offer information about new tools, technologies, and services that can enhance operations. Attendees can chat live with other gas industry professionals, manufacturers, distributors, and service providers.
This spotlight topic will be about the GoVAC FLEX – Pipeline Evacuation System. The presentation will be held Tuesday, September 20, 2022 from 1:00 PM – 2:00 PM EST. Titled: Capture and Recover Natural Gas from Pipelines During Blowdowns with the GoVAC FLEX will be Presented by: Rick Kay, COO of Onboard Dynamics LLC.
The GoVAC FLEX is a revolutionary tool for minimizing methane releases during pipeline blowdowns. It is a complete self-contained pipeline evacuation system that can transfer recovered natural gas to either an adjacent pipeline or compress the gas to 3600 PSI for use elsewhere as a CNG fuel. It is powered by a small portion of the natural gas being recovered, so no external power is required. Its compact size facilitates transport and positioning at job sites. Remote monitoring ensures reliable operation and responsive service. State-of-the-art telemetry provides accurate and detailed environmental reporting. The GoVAC FLEX is part of a growing family of sustainability products from Onboard Dynamics to support the natural gas ecosystem.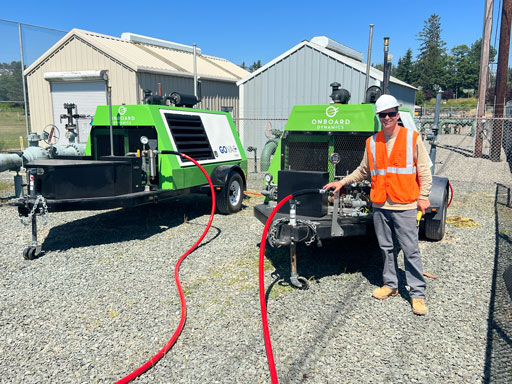 During this session, members will learn how the GoVAC FLEX enables operators to take the lead in incorporating best practices of capture and recovery of natural gas during pipeline evacuations while also offering these benefits: 
Easy to operate.
Easy to set up and deploy.
Safe and compliant.
Fully automated.
Fast and efficient from beginning to end.
Benefits such as these will help the natural gas industry keep the natural gas pipeline infrastructure well maintained while mitigating methane emissions.
The goal of Onboard Dynamics is to support the natural gas ecosystem in reducing global greenhouse gas (GHG) emissions safely and reliably through our innovative and practical commercial solutions. Our patented, compression-based systems minimize methane and other GHG releases during pipeline operations and maintenance, mitigate GHG emissions from transportation vehicles, and capture methane that would otherwise be released to the atmosphere from other industrial operations. Our customers receive expanded environmental benefits and reduction in costs through purchasing, leasing, and/or receiving turn-key services from our natural gas-powered products.