Bend, OR. August 12th, 2020 – Onboard Dynamics announces the launch of their new GoFill™ refueling system. It is an instant and nimble drying and dispensing unit for refueling compressed natural gas (CNG) vehicles. The new product eliminates infrastructure barriers for fleet operators who immediately need an easy CNG station setup to refuel their commercial trucks.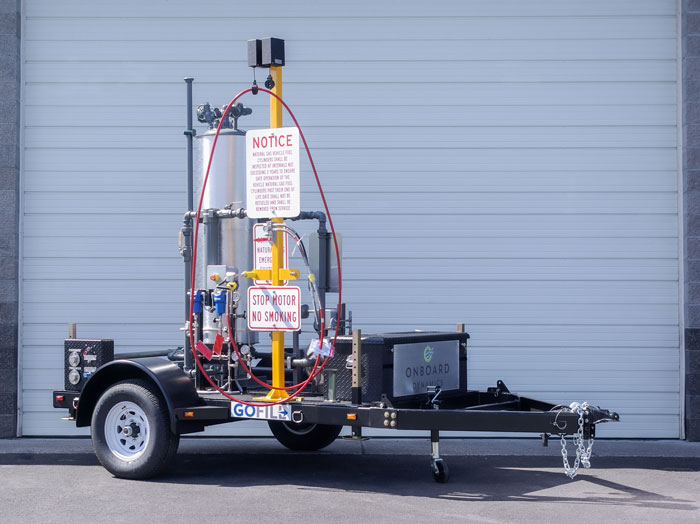 The first unit rolled out in Oregon, as part of the NW Natural's free truck loan program. The GoFill will be providing natural gas for refueling CNG into a Hyliion low-emission Class 8 truck for long and heavy hauls. The program provides fleet operators a short-term, no-cost demo period to experience the vehicle. The on-site, easy station set-up makes fueling convenient during the demo period.
"We designed the GoFill as a companion to the GoFlo® compressor to create a CNG-in-a-day solution," said Rita Hansen, CEO of Onboard Dynamics. "We're excited to roll out our new product for NW Natural's truck loan program and help contribute to the adoption of natural gas vehicles."
The versatile design makes the GoFill a temporary or permanent installation. When paired with Onboard Dynamics' natural gas compressor, the GoFlo, an instant fueling station can be set up that doesn't require electricity to operate. This makes rapid deployment possible in locations where infrastructure is challenging.
"The GoFill is a crucial part of our truck loan program because it gives new natural gas fleet operators easy access to refueling while they test the trucks, and without fueling roadblocks to worry about," said Chris Kroeker, NW Natural product manager of natural gas vehicles.
The new GoFill, when packaged with the GoFlo compressor, gives operators everything they need to begin converting their fleet to natural or renewable natural gas. It provides an easy-to-setup and take-down CNG fueling station that will create new opportunities for expanding CNG fleets or to quickly provide a fueling station for ad hoc projects.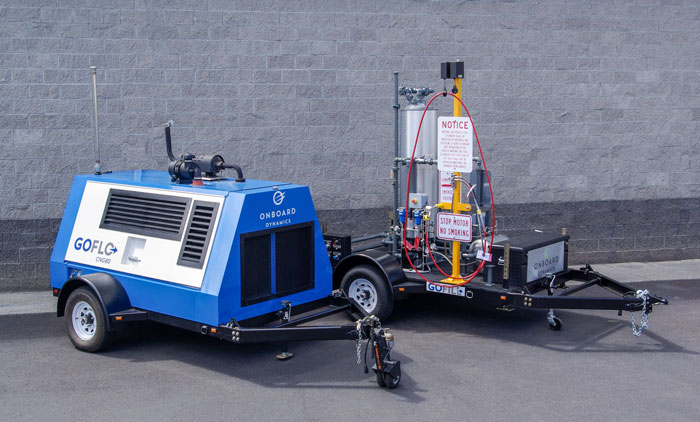 About Onboard Dynamics, Inc.
Founded in 2013, Onboard Dynamics is helping lead the clean fuel revolution with the introduction of its GoFlo® CNG80 natural gas compressor. This mobile platform enables fleet managers and others to lower their fuel costs and carbon emission profiles by simplifying the compression of natural gas. Whether it's in the field, or at the fleet yard, the GoFlo® mobile compressor can accept any low-pressure natural gas or a renewable natural gas source and compress it for use as a cost-effective, clean fuel for vehicles or means of transport. For more, visit ObDI media coverage or connect on Twitter (@OnboardDynamics), Facebook, and LinkedIn.