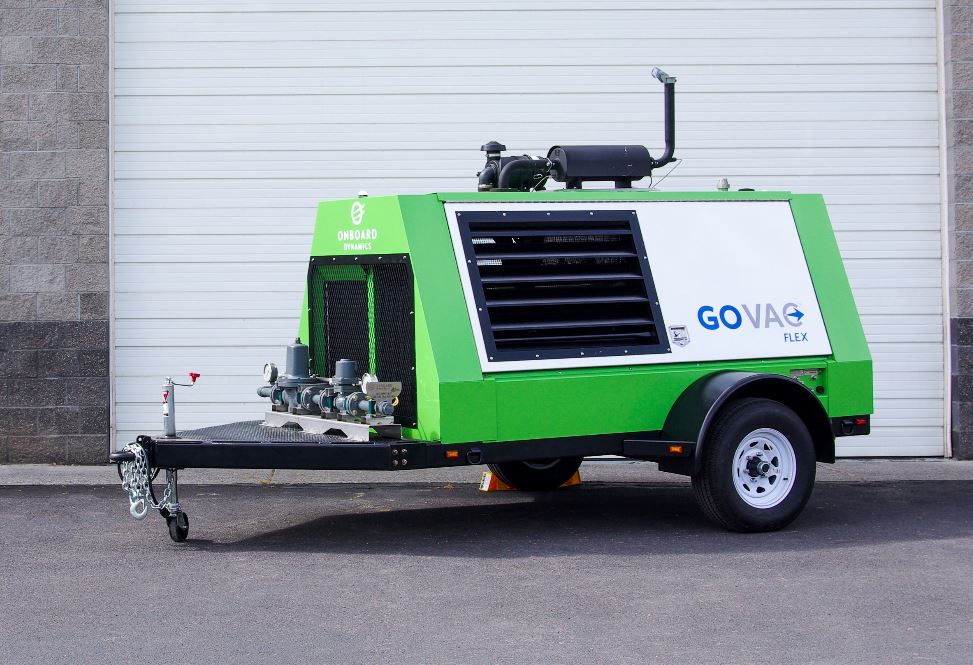 BEND, OR June 15, 2021 – Onboard Dynamics has responded to the critical need to reduce methane releases into the atmosphere with their latest product launch of the GoVAC™ Flex. This simple, mobile, fully integrated solution will provide operators of natural gas pipelines a tool to safely minimize their greenhouse gas (GHG) emissions during routine pipeline maintenance.
As part of the product validation process with actual pipeline operators, successful pipeline evacuation projects have been held at utility companies in Oregon, California, and Nevada. The GoVAC Flex will be a key contributor to the mission of these companies in finding innovative clean natural gas solutions that are crucial to reducing GHG emissions while providing an affordable and sustainable energy future.
The GoVAC Flex is self-contained and fueled solely by a small amount of the natural gas that is being recovered during the evacuation process. It can draw a pipeline down to near zero psig and transfer the gas into an adjoining line at any pressure or compress the gas up to 3600 psi into a tube trailer for transport to another pipeline or end use location.
"We developed the GoVAC Flex to help our customers reach their critical goal of reducing greenhouse gas emissions," said Rita Hansen, CEO of Onboard Dynamics. "We're excited to launch this new product and demonstrate our leadership in the clean energy technology marketplace."
The GoVAC Flex is small enough to be pulled by a half-ton pickup making it easy to transport to and maneuver around a job site. Despite its small size, it can evacuate a pipeline in less time than other approaches that require multiple pieces of equipment. Because it operates on clean natural gas, a pipeline evacuation operation utilizing the GoVAC Flex emits less GHG emissions than products that use a diesel-powered air compressor.
Founded in 2013, Onboard Dynamics is leading the climate-tech revolution with its unique, patented, mobile, and modular technology platform to responsibly manage and use natural gas. The innovative products based on this platform enable customers to achieve economic value and environmental benefits by simplifying the compression and transfer of natural gas. Whether deployed at a remote pipeline job site, in an oil or gas production field, at a dairy renewable methane recovery project, or at a fleet yard hosting clean natural gas vehicles, its products can compress natural gas or renewable natural gas from any source for convenient transfer via pipeline or high-pressure tanks for environmentally effective use. And there is never a need for an external electrical power source or diesel for operation. For more information, visit ObDI media coverage or connect on Twitter (@OnboardDynamics), Facebook, and LinkedIn.