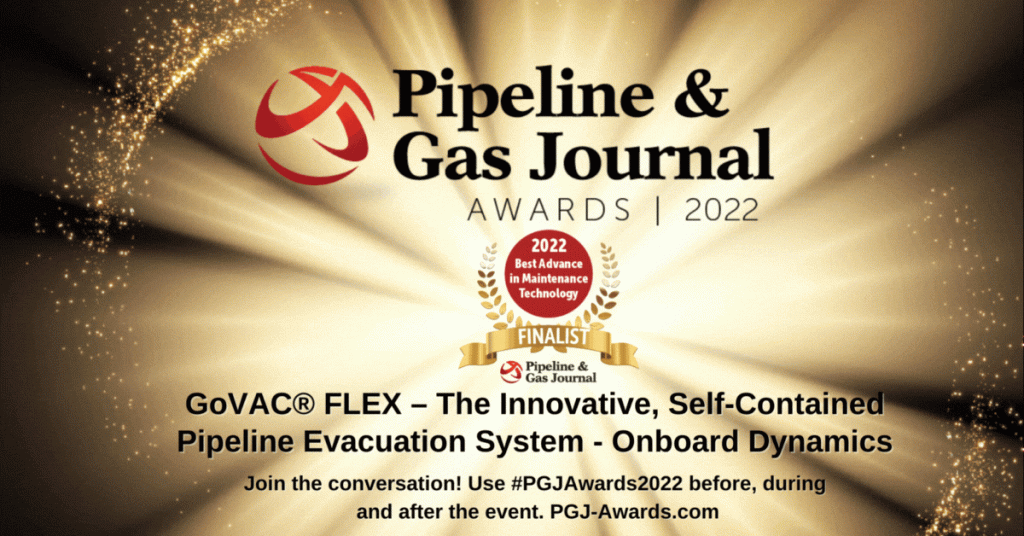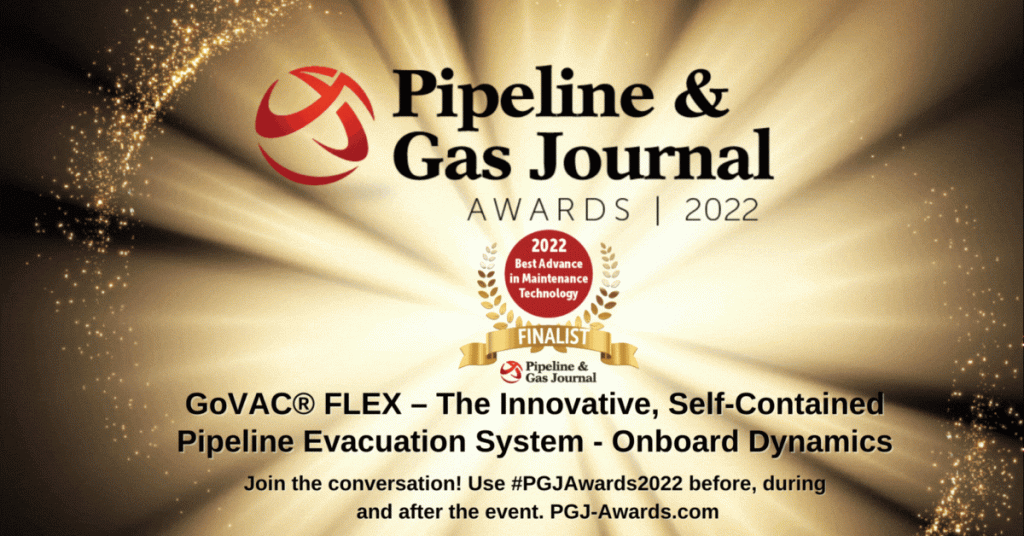 Onboard Dynamics is competing for the 2022 Best Advance in Maintenance Technology Award put on by the Pipeline & Gas Journal. The program honors the midstream's leading innovations and outstanding personal contributions to the pipeline industry. The GoVAC FLEX, which is designed, developed, and manufactured by Onboard Dynamics, is one of five finalists competing in the category.
The GoVAC FLEX is an innovative, self-contained pipeline evacuation system that enables natural gas pipeline operators to reduce methane emissions from occurring during pipeline evacuations.
The fully self-contained system can draw down a pipeline to near 0 PSIG. The recovered natural gas can then be transferred either into an adjoining pipeline or compressed up to 3600 PSIG and put into a tube trailer for transport and reinjection elsewhere or put into a storage tank to be used as CNG fuel for vehicles.
The patented, integrated combustion-compression system is powered by a small portion of the natural gas in the pipeline. Without the need for external power sources, such as diesel-powered air compressors, this design results in the lowest possible carbon and emissions footprint during pipeline evacuations.
The GoVAC FLEX is small enough to be towed by a standard pickup, which makes it easy to maneuver around job sites and be quickly deployed in field operations. State-of-the-art telemetry and controls including temperature and pressure sensors, electronic valves, and flow meters are installed throughout the system to enable ease of operation, to facilitate remote monitoring capabilities and to provide data collection for reporting purposes. The system is designed with attention to low noise for use in neighborhoods or high-density spaces.
The winners for the 2022 Best Advance in Maintenance Technology will be announced on November 17th, 2022.