Rita Hansen, CEO of Onboard Dynamics will be presenting solutions for methane recovery at the 2022 Western Regional Gas Conference. The session will be held at 10:15 am on August 24th. During this session, attendees will learn how the GoVAC® FLEX enables operators to take the lead in incorporating best practices during natural gas pipeline evacuation.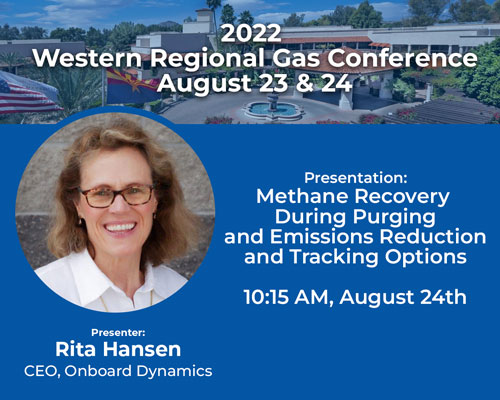 There are a handful of technologies across the performance spectrum available to operators to assist in performing pipeline evacuation. Onboard Dynamics has launched one of them. It is called the GoVAC FLEX, which enables pipeline crews to prevent close to 100% of emissions from happening. With the GoVAC Flex, operators can draw down the pipeline to near 0 PSIG using the natural gas in the pipeline as its source of power. The recovered gas can then be transferred into an adjoining pipeline or compressed up to 3600 PSIG and put into a tube trailer for transport and reinjection elsewhere or into a storage tank to be used as CNG fuel for vehicles.
The GoVAC Flex is a mobile system that has a flow rate of 100 SCFM or 100MCF per day. The system can accept inlet pressures up to 1200 PSI and outlet pressures are based on what you are compressing into with a maximum of 3600 PSI.
The Western Regional Gas Conference is held in Scottsdale, Arizona on August 23 and 24th. It is a non-profit organization that covers O&M topics, integrity management, and new technology for the natural gas industry. There are conferences, seminars, and vendor exhibits.
The WRGC objectives are to provide a venue for discussion of natural gas distribution and transmission topics, regulations, and issues. It provides an atmosphere of fellowship, information exchange, and networking between delegates, speakers, and vendors. The venue also gives operators a chance to interact with PHMSA and State Regulators on an informal basis.